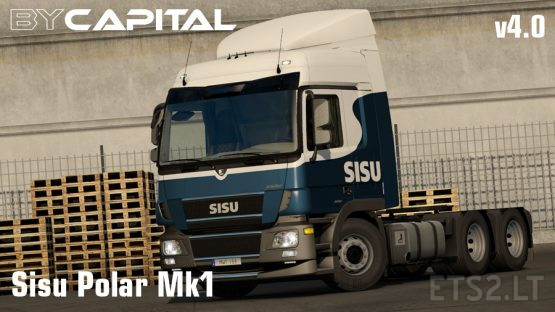 This mod adds a Sisu Polar Mk1 with almost the same tuning possibilities as my MB Actros MP3 Reworks.
You must have MB Actros MP3 Reworks 4.0 ByCapital activated for this mod to work properly
The mod is for game version 1.35 and above only!
Install by just drop the ZIP-file in your mod folder and activate it in mod manager.
Cabin accessories DLC compatibility here: https://sharemods.com/koskze0qt531/Sisu_Polar_Mk1_CabinAccessories.zip.html
Please don't reupload and do respect the credits.
Changelog v1.0 to 4.0
Made compatible to Actros Reworks ByCapital v4.0
Added short 6×2 and 6×4 chassis
Added slots on bumpers for custom LP
And more
Credits:
Capital
SCS
Sisu bumper by Kast
Credits:
Capital, Kast, SCS
DOWNLOAD 12 MB