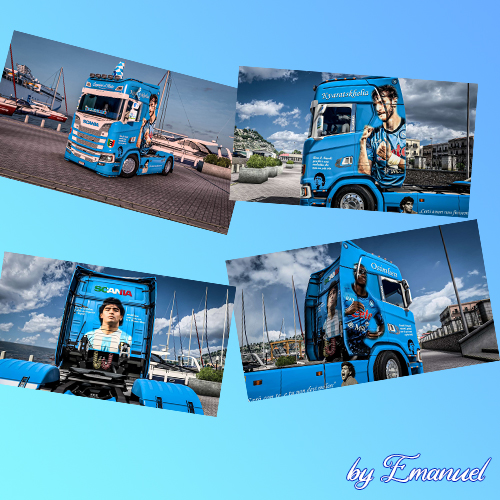 Hello guys 💙🤍
Today I realized this small project dedicated to the Neapolitan fans of the football team "SSC Napoli". It is a skin for the Scania S with various characters such as Osimhen, Kvaratskhelia and the legendary Diego Maradona.
I also made a neon sign with the words "Napoli Campioni d'Italia".
-The skin works on both Scania by SCS and Scania by Eugane.
-Works on game version 1.40, 1.41 …. 1.46 1.45, 1.47 and future version.
-The truck only requires the "Mighty Griffin Tuning Pack" DLC but also works without the DLC.
-Inside the link you will find the photos, the skin and the neon sign.
I'll leave the Scania S by Eugane link:
Link: https://steamcommunity.com/sharedfiles/filedetails/? id=1764268887
For more information you can contact me through my social networks that I left below:
Facebook: https://www.facebook.com/emanuel.cristi.9421
Instagram: https://www.instagram.com/emanuelcrysty_photoshopper/
YouTube: https://www.youtube.com/@emanuelcristi270
Hope you enjoy it and have fun! 💙🤍💪🏻
Credits:
by Emanuel Cristi
DOWNLOAD 11 MB