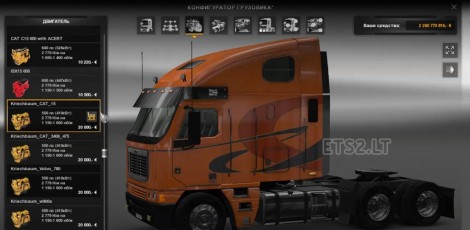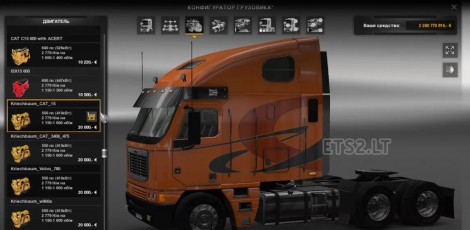 The sound collection for American trucks:
Freightliner_Argosy_3.0 [odd_fellow]
Freightliner_Coronado_1.6 [Stas556_dmitry68]
Kenworth_T800_2.1 [dmitry68]
Kenworth_W900a_for_1.18 [Stas556_dmitry68]
Peterbilt 379EXHD_2.0 [Stas556]
Peterbilt_351_2.0 [JAWA_Smith_Stas556_]
It includes 11 independent sounds from the authors: Kriechbaum, odd_fellow, tincho, TruckerKid
Motor parameters (based on the Cat 550 of fashion T800)
These parameters are the same for all engines in fashion, but they have different sounds.
torque: 2779 – Power
rpm_limit: 2000 – rev limiter
engine_brake: 0.3 – the power of the engine brake
volume: 14.9 – displacement (flow)
Now the motor (mountain) brake is not as sharp, and the use of the rev limiter
It gives smooth shifting automatic transmission mode.
Edited standard motors machines: 351,379, w900
removed the old parameters, and added rpm_limit engine_brake
Added PPC "EATON FULLER RTLO-20913AR" of fashion T800 to all machines.
It is also prescribed additional slots with new sounds in orders agencies (quick job)
(Increased frequency of these machines)
Trucks have different colors, using skins.
The mod fixes contained animation tachometer: Argosy, w900 and p379
Tested 1.18
Credits:
Kriechbaum, odd_fellow, tincho, TruckerKid, ZHUK
DOWNLOAD 95.6 MB