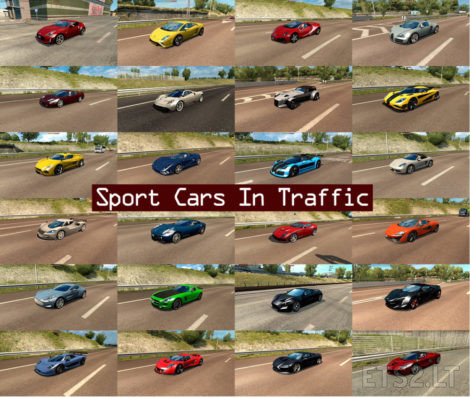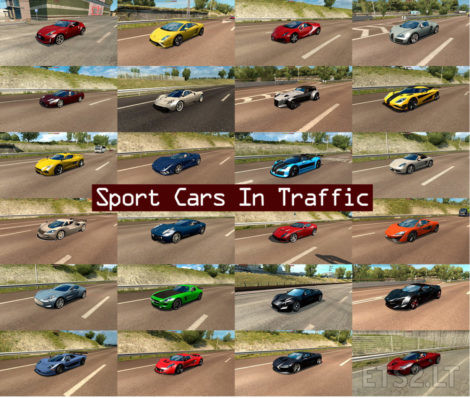 Pack adds in traffic 24 sport and super cars:
AC 378 GT Zagato
Arash AF10
Aston Martin One 77
Bugatti Veyron
Donkervoort D8 GTO
Falcon F7
Ferrari LaFerrari
GTA Spano
Gumpert Apollo N
Hennessey Venom GT
Honda NSX
Koenigsegg One:1
Lamborghini Gallardo LP 560-4
Lucra L148
Mazzanti Evantra
Mercedes-Benz SLS AMG GT
McLaren 570s
Mosler MT900
Nissan 370Z
Pagani Huayra
Porsche 718 Boxster
Sbarro Alcador
W Motors Fenyr Supersport
Zenvo ST1
All standalone.
Works on any maps.
Compatible with AI packs by Jazzycat.
For version 1.31.x
Included two versions: with low frequency (0.1) and normal frequency (1).
For low frequency you must have in mod folder two files:
sport_cars_traffic_pack_by_TrafficManiac_v1.4base.scs
sport_cars_traffic_pack_by_TrafficManiac_v1.4low.scs
For normal frequency one file:
sport_cars_traffic_pack_by_TrafficManiac_v1.4base.scs
Version 1.4 – added Bugatti Veyron, Sbarro Alcador, AC 378 GT Zagato, Honda NSX.
Credits:
TrafficManiac
DOWNLOAD 15 MB [Modsbase]
DOWNLOAD 15 MB [Sharemods]