Support daf, scania, renualt, volvo, man, iveco trucks
For all version.
#rameshsremakemods
Credits:
Ramesh_lahiru
DOWNLOAD 8 MB
ENG : MTA Transport is a French company transport that deliver freight across this country… So I decided to make a skin for this company
FR : MTA Transport est une société française de transport qui livre des marchandises à travers le pays … J'ai donc décidé de créer un skin pour cette société
Credits:
SCS, Mathonner
Ferrari tranceporter ownership Skin
ownership
Curtain Slider・Single, Double and B-Double
Dry van・Single, Double and B-Double
Dry van Slide Doors・Single, Double and B-Double
Walking Floor・Single, Double and B-Double
Ferrari Truck Skin Pack v1.0
(IVECO Stralis/IVECO Stralis Hiway/SCANIA R 2012/SCANIA Streamline)
SCANIA R 2016
SCANIA S 2016
Credits:
HIRO
DOWNLOAD 3 MB
This is a combo skin pack of Momo Logistics for all SCS trucks and owned trailers.
This skin is the winner of a skin making contest held in September – October 2018.
I am not the maker of the skin but the skin maker has granted me the permission to publish. The skin maker name is "Private Person".
Krone trailer skin addon pack is available separately which you can get it from the link below:
Krone trailer skin addon link : (coming soon)
USER AGREEMENT
Although all the intellectual property rights belong to SCS, But please respect hard works of the mod author.
The mod author does not give consent for anyone to:
– Re-post by any other download link other than the given link above.
– Re-post as is, as your own.
—————————————————————————————————–
DONATION (Not required, but highly appreciated)
Any amount (even one cent) of your kindness & support will be greatly appreciated.
https://www.paypal.me/aaticha
——————————————————————————————————-
HOW TO CONTACT MOMO ? :
Unfortunately friends invitations will be accepted on certain circumstances only. However, you can contact me through:
1. The comment section below. (Rude comments will be deleted)
2. Facebook fanpage: https://www.facebook.com/Momos-mods-365686307191461/
3. My Youtube Chanel: https://www.youtube.com/channel/UCEAtYWr0IodkLyO9W4tMbpg/videos?view_as=subscriber
4. My email: [email protected]
Credits:
Momo, Private Person
DOWNLOAD 48 MB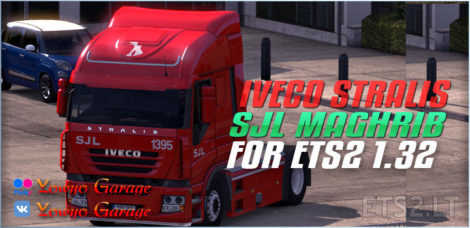 Visit My Page to see more Mods:
– https://vk.com/yowyogarage
Visit Flicker to see more Images:
– https://www.flickr.com/photos/[email protected]/
Winrar or 7Zip Extract the folder :
– Then put it into Documents > ETS2 > Mod
Tested : 1.32.x
Respect the download link :
– Do Not Re-Upload
– Do NotChange Link
Thank you for downloading
Have fun
Enjoy
Credits:
Yowyo Garage
DOWNLOAD 85 KB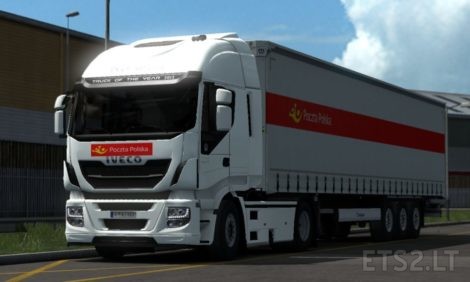 The modification adds the painting of Poczta Polska to krone semi-trailers and the IVECO vehicle from the game
KRONE DLC REQUIRED
RESPECT LINK DO NOT REUPLOAD
Credits:
KamilTK MATAMET SCS [1.32]
DOWNLOAD 1 MB