-Works with all cabs.
-Exterior/Interior view.
-2 Steering wheels.
-Option to chose from 2 variants.
-Tested on 1.34 !
-Enjoy!
*Standalone. Now Works with MP4 by Schumi!
Do not reupload!!! Share with the same download link!
Credits:
SCS, Carmichael
DOWNLOAD 6 MB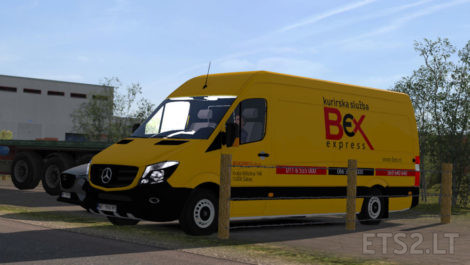 4k textures
-Working on Azorax Modding's MB Sprinter
Credits:
DaviD_SRB
DOWNLOAD 516 KB
The "A1Demolice.cz" this is a Czech construction company, which also deals with the export or delivery of various goods. In their car park there are trucks such as Tatra, Man, Volvo and Mercedes. Unfortunately, I could not find the photos, and I made the skin for Man and Mercedes from memory, as well, Daf was used instead of the Tatras.
Skin avianable for Man TGX Euro 6(by scs), Mercedes-Benz new Actros, DAF FX Euro 6 and Schmitz Tipper Trailer from MDModder.
For trucks and trailer avianable black and yellow color of skin.
———————————————————————–
PLEASE, DON'T REUPLOAD. USE ORIGINAL LINK!
Credits:
sagittariusjr
DOWNLOAD 320 KB
Patinter Pack compatible with the latest game version (1.32 or newer), and compatible with the ownable trailers.
Includes a skin for the curtain side trailer and another skin for the insulated/refrigerated trailers.
Includes seven skins for trucks (Renault Magnum, Premium, Actros MP4, DAF XF 105, XF e6, MAN TGX Euro 5 and TGX Euro 6). The skins are compatible with the ingame trailers, in all cabin sizes.
Credits:
SilvaTrucker
DOWNLOAD 736 KB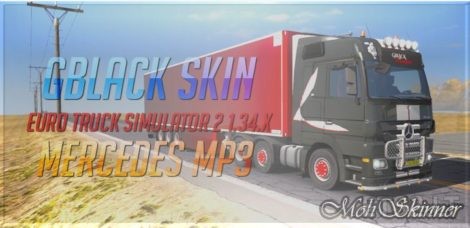 Extract winrar then put the scs file in ↓
My Documents → Euro Truck Simulator 2 → mod folder
Tested 1.34
Follow my page for more skins & Radios Music:
https://www.facebook.com/MohSkinner/
Credits:
MohSkinner
DOWNLOAD 487 KB
Mercedes Benz MP4 White wod Interior
Work super on 1.34v
ENJOY
Credits:
Miki
DOWNLOAD 47 MB