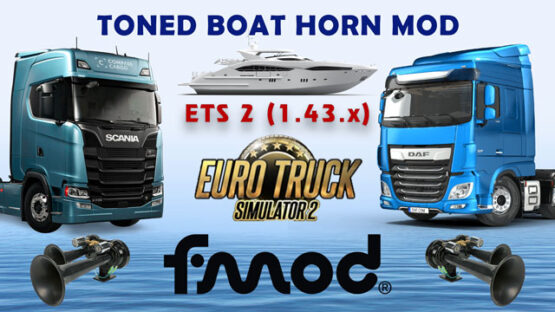 Toned Boat Horn MOD for Euro Truck Simulator 2 (1.43.x)
This mod includes horn sounds recorded from real life truck horns. Works with Euro Truck Simulator 2 Version 1.43.x
To activate this mod, go to the service station and add the respective air horn addon to the roof grill.
ADDONS INCLUDED:
1. TONED BOAT HORN
These horn addons are compatible with any SCS trucks and mod trucks that employ SCS Horn addons.
For further updates subscribe to my YouTube channel Black Stacks
Please Don't Reupload 😢. I've spent many days in learning and spent many hours to create these sound mods.
Credits:
1. Riyas_ma
2. SCS
DOWNLOAD 79 KB
DOWNLOAD 79 KB [mirror]