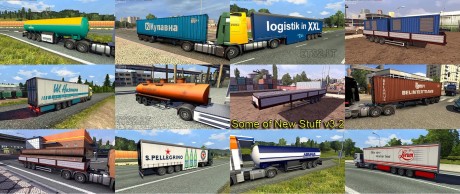 Pack adds in game 87 new trailers (Kögel, Fliegl, Böse, Närko, Lamberet, Chereau, Schmitz, Bodex, Fruehauf, Schwarzmüller, D-Tec, Samro, Krone, Pacton, Ekeri, Goldhofer, Kröger, Nooteboom, Sommer, Estepe, Fontaine, McLendon, Krampe, Kotte, Panav, Kempf, Chmzap, Maz, Nefaz, Szap, Odaz and others), 336 new cargos, 439 traffic trailers and about 2000 skins for trailers.
New cargos added to 138 companies for TSM Map, Promod, Poland Rebuilding, MsHeavyAlex Map, Rus Map, Eastern Express, Map EAA.
All standalone.
Works on any maps.
Tested on 1.16.x
Compatible with all my packs.
Included english and russian versions.
For english version you must have in mod folder three files:
trailers_and_cargo_pack_by_Jazzycat_v3.2_part1.scs
trailers_and_cargo_pack_by_Jazzycat_v3.2_part2.scs
trailers_and_cargo_pack_by_Jazzycat_v3.2_eng.scs
Version 3.2 – added 6 new trailers, 16 new cargos, 75 new skins, 11 new traffic trailers.
To work properly pack should be below your map in Mod folder!
If you're using mods, replacing default trailers, correct work of pack not guaranteed!
Credits:
Jazzycat
DOWNLOAD 707 MB [sharemods]
DOWNLOAD 707 MB [uploadfiles]