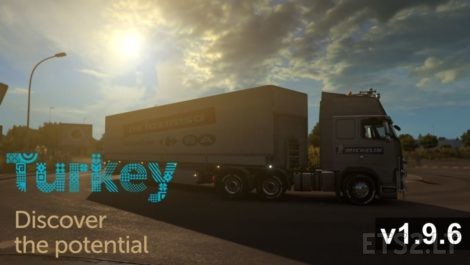 EN
Euro Truck Simulator 2 Turkish Companies mod updated to version 1.9.6!
What's new with v1.9.6
*Compatibility for 1.35.x game version.
General Description
The companies in the game are separated by type; trailers, company center logos, transport market's logos, names, flags and road side company sign have been replaced by real Turkish companies in the field.
TR
Euro Truck Simulator 2 Türk Firmaları modu 1.9.6 sürümüne güncellendi!
v1.9.6 ile gelen yenilikler
*1.35.x oyun sürümüne uyumluluk getirildi.
Genel Açıklama
Oyundaki firmalar türlerine göre ayrılarak; dorseleri, şirket merkezi logoları, nakliye piyasası logoları, isimleri, bayrakları ve yol kenarı işaret levhaları alanındaki dev Türk şirketleriyle değiştirilmiştir.
Credits:
Sinagrit Baba
DOWNLOAD 20 MB [sharemods]
DOWNLOAD [steam workshop]