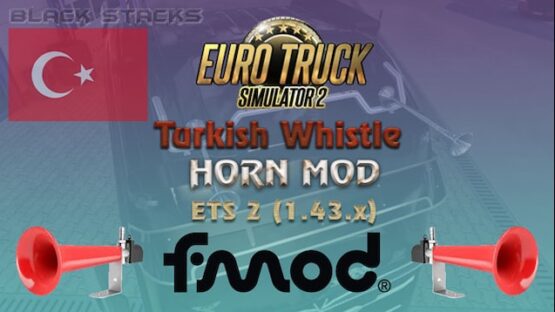 TURKISH WHISTLE HORN
This mod includes horn sounds recorded from real life truck horns.
Works with Euro Truck Simulator 2 Version 1.43.x
To activate this mod, go to service station and add the respective air horn addon to the roof grill.
Added Support to l_horn and r_horn slots. Use Hidden Slots for Horn. Only this mod gives support to l_horn and r_horn slots for TURKISH WHISTLE HORN MOD.
Daf 2021 can support this TURKISH WHISTLE HORN MOD by the way of adding through Hidden Slots for Horn MOD
Addons Included
TURKISH WHISTLE
These horn addons are compatible with any SCS trucks and mod trucks that employ SCS Horn addons.
Credits:
Riyas_ma's
DOWNLOAD 44 MB