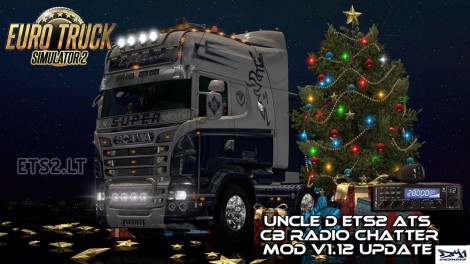 Well drivers, decided to hit you folks up with one last chatter mad for 2015, it's been ah blast producing these sound mods for you drivers who enjoy the endless yack yack of channel 19 in their cabs when they drive like I did when I was a CDL driver here in the US. I thank everyone this year who downloaded my mods and shared them with the world. Everyone have a safe hoilday season and see you all in 2016 in American Truck Simulator & Euro Truck Simulator 2 with new endless BS to listen to while you drive around these virtual roads! "Uncle D"
The mod is simple to install, copy and paste the mp3 file to your ETS2 music folder NOT MOD FOLDER, and turn it on in your sim radio player and go. Hope you U.S. drivers out there enjoy them, and S/O's to all the other hot mod makers out there in the Euro Truck Simulator 2 community world!
This mod was tested in ETS 2 update V1.22
Warning: Language in some parts of ALL my chatter mods is adult oriented. USA Truckers have potty mouths, however the object to these mods is to keep it real sounding….
Uncle D Studios © 2015
All Rights Reserved
Author: Uncle D Studios © 2015
DOWNLOAD 28 MB