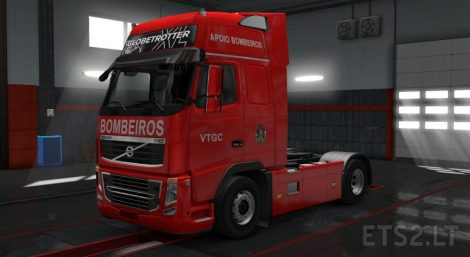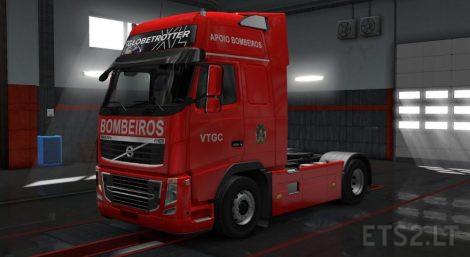 This mod includes a paintjob for the ingame Volvo FH Classic 2009 for Bombeiros (Firefighters), and looks similar to the typical trucks from the Portuguese firefighters.
Our ideia with this trailer is give support to the Portuguese firefighters, because they're always untiring, and deserve all our suport. Due to this situation, we decided to come up with this project "Simuladores Solidários" (in english: Solidarity Simulators), that you can follow on our Facebook Page: https://www.facebook.com/Simuladores-Solid%C3%A1rios-1721003578198794/
PORTUGUESE/PORTUGUÊS:
Este mod inclui uma pintura para a Volvo FH Classic de 2009 do jogo, dos Bombeiros, e tem um aspecto semelhante ao dos camiões típicos dos Bombeiros Portugueses.
A nossa ideia com este reboque é dar apoio aos Bombeiros Portugueses, pois eles são sempre incansáveis, e mercem todo o nosso apoio. Devido a esta situação, decidimos lançar este projecto "Simuladores Solidários", que podem seguir na nossa página de Facebook: https://www.facebook.com/Simuladores-Solid%C3%A1rios-1721003578198794/
Credits:
Simuladores Solidários, The Lusitanos
DOWNLOAD 21.4 MB
https://youtu.be/kZWYVnuMpwY