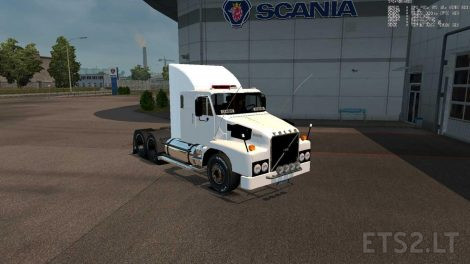 Volvo N10 NL10 NL12 NH12 edited by Cp_MorTifIcaTioN V1.2
Tested and adapted to the game version: 1.26.XX
Creator: Tonho Nunes
Editor: Cp_MorTifIcaTioN
Standalone, dealer Volvo and Volvo UK slots 1, 2 and 3.
Editions:
– New Engines.
– New Sounds.
– New gearbox.
– Corrected Interior.
– New Steering Wheels.
– A lot of stuff things.
– Much bugs have corrected.
– Trash files have be removed.
– The archive has been compacted.
(If you know error's please say to me in Telegram Messenger: @BestJew)
Allow to edit and correct errors. Allow to repost.
Installation:
Copy and past in thedirectory **DocumentsEuro Truck Simulator 2mod
Remember to activate in the game menu.
Taxation is Theft, State is Mafia and Governament is Slavery. Read Rothbard!
Credits:
Creator: Tonho Nunes; Editor: Cp_Mortification
DOWNLOAD 159.9 MB