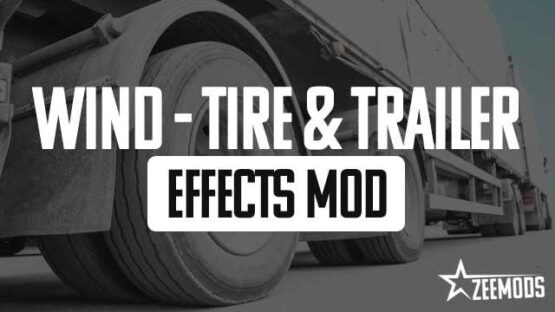 v1.0.1
Tire sound volume balance for 3 or more truck axles.
Interior wind volume increased slightly.
Introducing the Wind, Tire & Trailer Effect Mod (previously known as Road & Wind Noise Mod) – A Sound Revolution for Your Gaming Experience!
Features:
Authentic Wind Sounds: Feel the breeze as you hit the road! Our mod introduces a variety of wind sounds, meticulously recorded to capture the subtle nuances of the breeze interacting with your truck's cabin, creating a more dynamic and immersive driving experience.
Enhanced Tire Acoustics: Experience the roar of the road beneath you! The mod includes refined tire sounds on different terrains, including tarmac and gravel, ensuring each journey is filled with authentic auditory detail.
Trailer Rattles and Skids: Immerse yourself in the realism of cargo transport! Our mod introduces realistic trailer rattles, capturing the unique sounds of your load in motion. Plus, experience heart-stopping tire skid sounds, adding a new layer of intensity to your driving.
Compatible with:
ETS2 v1.48+
Credits:
Zeemod
DOWNLOAD 31 MB