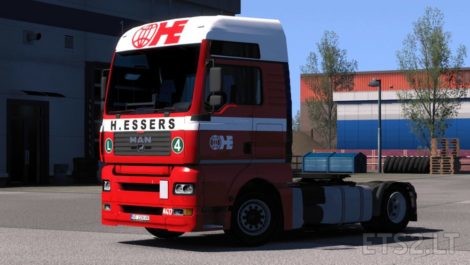 Hi
This is a skin at MAN TGA By MADSter (You can find on SCS Forum)
This skin is from H.ESSERS company
This skin is only for XXL Cab
I fitted with 4X2 Chassis and no spoiler cab
Credits:
ALEX (Skin), MADSter (Truck)
DOWNLOAD 22 MB
:::4k resolution H.ESSERS Skin Pack, low deck edition:::
The following mods are required (download links can be found inside the archive):
– Man TGX Euro 5 and Euro 6 by Madster
– Krone Megaliner addon by Sogard3
– Krone Coolliner Mega addon by Sogard3
The skin pack features:
– two skins for the Man TGX Euro 5 and Euro 6 (for XXL cab variants ONLY)
– one skin for the Krone Megaliner
– two skins (red and white) for the Krone Cooliner Mega
– Belgium registration plates included
DISCLAIMER: does H.ESSERS use this kind of setups? No. Do I care? No.
Credits:
R3AP3R
DOWNLOAD 1 MB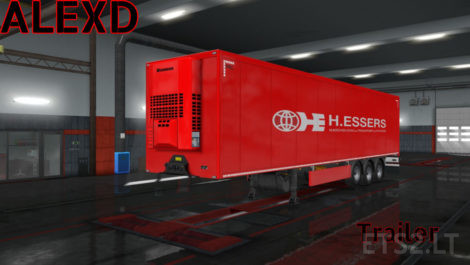 This mod requires ETS2 1.33.x.
Follow me on youtube : https://www.youtube.com/channel/UCNQUUf21ntYwtktsE5xUCHg
Trailer Ownership Support :
-Dry freighter
-Insulated
-Refrigerated
Credits:
ALEXD
DOWNLOAD 249 KB
For MAN TGX Euro5 v2.5 by MADster
Tested on 1.32 game version
Please don't re-upload!
Credits:
AxelSAN
DOWNLOAD 128 KB
Game version – v.1.32
***********************************************
Mod Version: 1.0
Category: Trailer Ownership
Size: 11MB
Original upload: ShareMods.com
Author: CrowerCZ
***********************************************
Credits:
CrowerCZ
DOWNLOAD 11 MB
combo skin pack Of the company(society) h.essers.
Man tgx + fridge, profiliner and schmitz.
Tested 1.31
Credits:
nico
DOWNLOAD 8 MB