Add-on for Jazzycats cargo packs v0.9 beta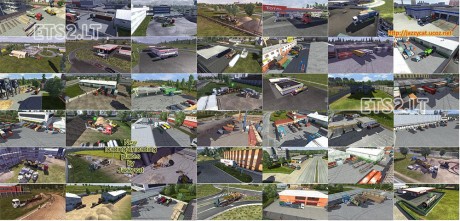 Add-on adds in game new companies (over 250 new loading/unloading
places) – delivery of fuel to gas stations, construction equipments to
constructions and roadworks, agricultural machinery to agricultural
areas, cars to car dealers, trucks to truck dealers, buses to bus
stations, foods to hotels, helicopters/airplanes to airports,
locomotives/train cars to depot and so on…
Works only on ProMods 1.52 and Poland Rebuilding!!!
Not compatible with all other maps.
Correct order of files in mod folder:
Promods 1.52 files (required)
Poland Rebuilding files (required)
trailers_and_cargo_pack_by_Jazzycat_v2.2 (required)
railway_cargo_pack_by_Jazzycat_v1.2 (optional)
military_cargo_pack_by_Jazzycat_v1.3 (optional)
zaddon_for_Jazzycats_cargo_packs_v0.9beta_Promods_1.52
ATTENTION! QUICK JOBS DON'T WORK IN NEW COMPANIES!!!
With your own truck everything is working properly.
Credits:
Jazzycat
DOWNLOAD 32 MB
Popular mods