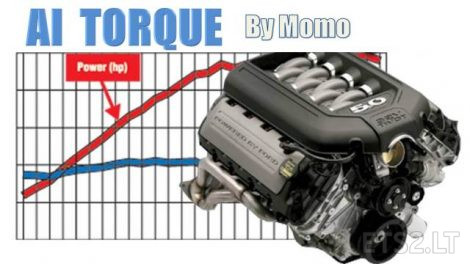 WHY THIS MOD ?
Have you ever experienced that vanilla AI trucks always fly away from you and you cannot catch up with them because their acceleration rate is like V8 on dope which is not always realistic. You wish you could line up with them like in real life traffic but you just cannot catch up with them.
Then what about in real life ? Nowadays truck drivers in real life are encouraged by their employers to always drive in a fuel-efficiency manner (ECO Driving) with incentives for the drivers who are able to save fuel. Because the fuel cost accounts for most of the operating cost. So, the incentives mean a lot to the drivers because they are living on the minimum wage. So, in real life a right minded truck driver would never accelerate like racing.
WHAT THIS MOD DOES ?
– Reduces the AI trucks' torque rage from the vanilla 1,800 – 3,500 to 1,300 – 2,300.
– With this mod, all original AI trucks should have equal acceleration rate as yours, most of the time.
– Now, it's easy for you to catch up with them to form a truck line on the road (the slow lane).
DISCLAIMER
1. This mod only touches the AI torque parameters, it does NOT touch anything else and contains only the torque files. So if you happen to experience any strange happenings, they are NOT from this mod.
COMPATIBILITY & USE INSTRUCTIONS
– Compatible with game patch 1.30 and earlier versions.
– Compatible but NOT support modded AI trucks (such as Jazzycats). Support for Jazzycats' trucks will be added in the next mod update (soon).
– This mod can be used both as a stand alone or add-on of any other traffic mod.
– This mod must be higher than any other traffic mod.
– Compatible with "g_traffic" command.
USER AGREEMENT
By subscribing this mod, you have agreed that:
– If you want to re-upload anywhere else, you will use only links provided by me:
http://sharemods.com/xosduaiipsga/ai_torque_ets_1_0.scs.html
DONATION ?
This mod is and will always be free of charge. However, tips are always appreciated.
You can donate by Paypal or Steam Wishlist/Trading Cards.
https://www.paypal.me/aaticha
FOLLOW MY MODS ON FACEBOOK FAN PAGE
"Momo's mods"
https://www.facebook.com/Momos-mods-365686307191461/
Credits:
Momo
DOWNLOAD 35 KB