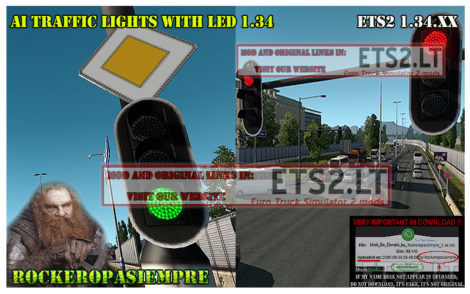 Independent mod.
For requests from some users, I created the independent led signaling mod.
It does not affect any other lighting. No lampposts, no trucks, or any other.
PROHIBITED UPLOAD THE MOD TO ANY SERVER WITHOUT PERMISSIONS.
Specifications:
– Semaphores with leds.
– THIS MOD ONLY AFFECTS THE SEMAFOROS !!. It does not affect any other type of lighting.
– Compatible with all my mods.
– This mod offers the possibility of seeing a number of traffic lights with led lights in different countries of the map.
– Greater visibility at long distances.
– Increased textures quality.
– Higher light intensity of the led traffic lights.
– Traffic lights with leds in all cities: United Kingdom, Belgium, Switzerland, Czechoslovakia,
Germany, Estonia, Finland, France, Italy, Lithuania, Latvia, Netherlands, Russia,
Poland, Slovakia, Hungary …
– It also includes traffic lights leds, in certain bus stops and temporary traffic lights.
– Added traffic lights leds for the countries included in all the existing dlc's to date.
– Some traffic lights on the map, can not be converted to led, since they belong to the map itself,
and you can not modify this mod.
Author: Rockeropasiempre
Weight of the file: 2.3 Mb
A greeting.
Credits:
Rockeropasiempre
DOWNLOAD 2 MB