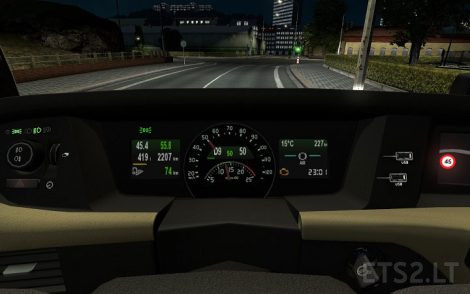 Ones I made dashboard computer for me for my Volvo 2012.
I was surprised when I found out how much people use my home board computer for game, it not realistic.
Now I want to rework it, when I know new dashboard behavior, since mod was created.
Mod don't have any unused truck parameters in game, such as
Adblue level, water and oil temperature, oil pressure and so on.
All you needed info before your eyes.
Readable fonts, so you may not use game zoom for read info on dashboard.
Added some animation, like a clock flashin points, red flashing fuel warning, engine check animation.
Engine brake indicator, engine damage icon indicatior with own sound.
Author: Piva
DOWNLOAD 472 KB [Sharemods]
DOWNLOAD 472 KB [Uploadfiles]
https://www.youtube.com/watch?v=sP3k-CQL5NU&feature=youtu.be