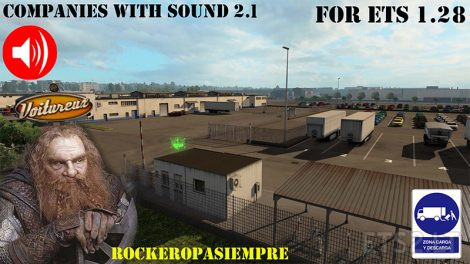 Update of the mod of sounds for the European companies of the game. Adapted files for the current version of the game 1.28.XX
For European Companies, including those incorporated in the DLC of France. If you do not have said DLC, nothing happens, because they serve the same way for the rest of Europe.
In total, 85 different sounds when loading or unloading at the docks.
If you do not hear the same sounds as the video, it is normal. There are companies with up to 4 random and distinct sounds. In this way the sounds change, even if you load several times in the same company.
Ambient sounds for companies located in the city.
Sounds also adapted for the environment in the periphery.
In some of the companies, it incorporates as in previous versions musical thread.
Author: Rockeropasiempre
File Size: 75.7 MB
Credits:
Rockeropasiempre
DOWNLOAD 76 MB