All Unlocked Profile (v1.20 and higher)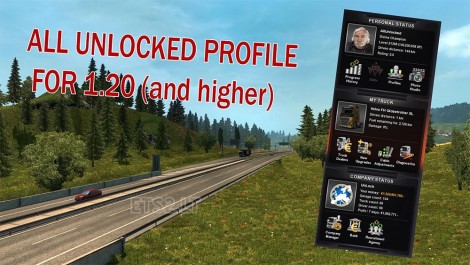 This savegame includes these functions:
– all 104 garages are unlocked and upgraded
– all truck dealers are unlocked
– all job centres are unlocked
– 5 trucks of every truck model are stationed in a garage, random chosen on the map, altogether 65
– every truck has a driver, altogether 65
– the player owns a Volvo FH 2013 with 750HP and everything maximum upgraded, golden lacquered, fueled up and 0% damage (ready to go)
– you start in your HQ (base garage) in Cologne on Monday, 2:00 pm
– your credit amounts to 1.529.861.760 €
– your current profit per week is about 1.900.000 €, it still grows
– your Level is 21.368
// Note that you must need the DLCs "Going East" and "Scandinavia" to use the profile !
// To install this profile you have to extract the folder "416C6C556E6C6F636B6564" to Documents/Euro Truck Simulator 2/profiles and in the ETS2-menu you choose "AllUnlocked" as savegame
// This profile works on version 1.20 or higher !!
Credits:
Air WP
DOWNLOAD 278 KB
Popular mods