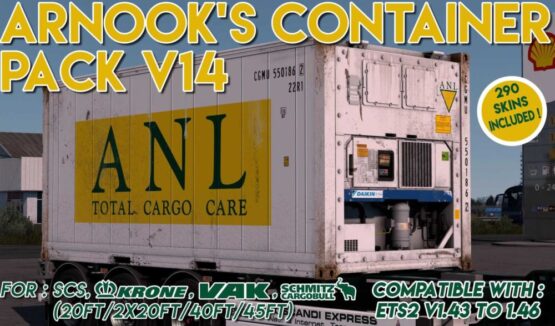 290 skins of real companies for default and new containers
New 20, 40 and 45-foot chassis and containers.
Compatible with SCS, Krone and VAK V-Slider(Case) chassis and platforms.
Available both for own trailers, and for agency orders and direct transportation.
The choice of the skin is made by the game randomly.
All containers appear in traffic.
v14:
– Added 20 skins to new 20ft & 2x20ft Reefer container
– Added the 20ft & 2x20ft reefer container to the traffic
– Minor def fixes/additions
– added the new 20ft & 2x20ft reefers to all SCS reefer cargos and both custom reefer cargos
– Minor fixes on previous container skins
– Updated the AI Train traffic Add-On (done by Krys Emlyn)
– Updated the no-Krone DLC traffic addon
Credits:
Arnook
DOWNLOAD 772 MB