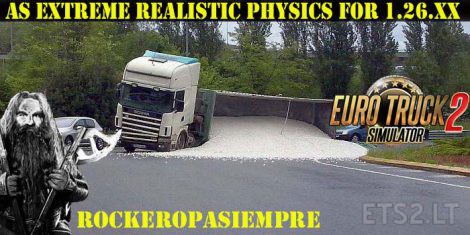 Hello everyone.
This time I created a rather unpredictable physics mod.
The mod touches virtually all of the physics parameters of the truck, inclination, brakes, brake temperature decreased (they heat up before and lose efficiency), adhesion of the wheels to the asphalt. Behavior in general to make it look as much as possible to take a truck in real life.
Also it touches the effectiveness on the clutch pedal, and all the parameters of behavior in the interior of the cabin, in relation to the effects that the conduction produces on the conductor; Acceleration, braking, tilt, seat spring, etc.
Important: The mod is designed for use with a steering wheel. I do not know his behavior with Game pad or keyboard.
If you are looking for a very stable behavior; DO NOT DOWNLOAD THIS MOD. YOU WILL DROP, AND YOU WILL STAY WITHOUT BRAKES BEFORE WHAT YOU BELIEVE.
Credits:
Author: Rockeropasiempre
Tester: Cupid
DOWNLOAD 89 KB