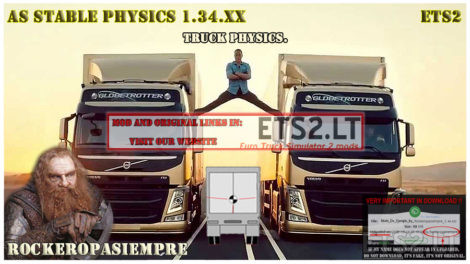 PROHIBITED UPLOAD THE MOD TO ANY SERVER WITHOUT PERMISSIONS.
Update of mod.
IMPORTANT: TRY NOT TO PLACE THE BRAKE INTENSITY BAR TO MAXIMUM, ON HALF THIS IS GOOD.
The mod directly affects the behavior of the truck on the road and makes driving much more bearable for those who do not like to be overturning over and over again. Therefore, if what you like is behavior as real as possible, DO NOT DOWNLOAD THIS MOD.
The behavior directly affects the distribution of braking, mass of the truck, tendency to understeer, cab tilt, air resistance, grip of the tires and many more adjustments. All this is achieved with the activation of the mod. In the attached video you can see the behavior with and without the mod. Activation of the mod at minute 1.30 of the video.
Changes in this version:
– Removed previous physical file.
– Update of the current physics for its operation in 1.34.XX
– Corrected braking parameter.
– Fixed cab tilt parameters.
Author: Rockeropasiempre
Weight of the file: 88 Kb
a greeting
Credits:
Rockeropasiempre
DOWNLOAD 88 KB