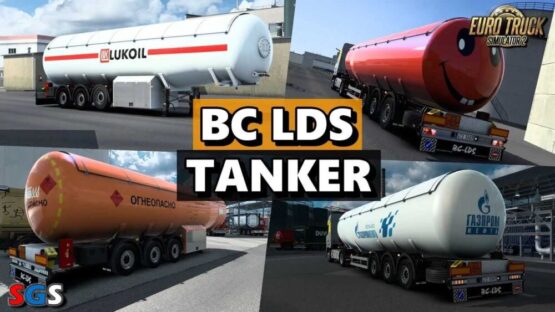 Mod features:
Fully converted 3D Model to a new format.
Fully serviceable model.
Sold in the property in the dealer of modifications of trailers
Completely autonomous.
Standard Tuning.
Has 2 chassis
Registered own cargo.
It is intended for transportation of various, flammable fuels and lubricants materials.
The tank has support for painting and skins.
There is a template for skins, in DDS format.
There is an animation of supports and an advanced hitch.
The mod has been optimized.
Works support – MULTIPLAYER.
Cleaned the log in the game up to 100% (percent).
Tested on ETS2 version: 1.46.x
Credits:
Model Turbosquid: jekich1 Convert game : MRD_Husky , eGoooD Skins: Truck Funky Paint Shop
DOWNLOAD 31 MB