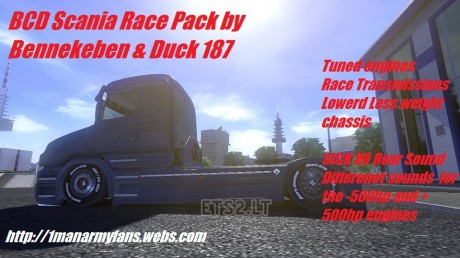 Scania Street legal race pack for ETS2
Modded by Duck187 & Bennekeben
Video teaser for the mod!
Supported for ets2 1.12. tested
Vid info:
Scania R more then 500+hp engines sound @ 01:00min
Scania R/streamline less then 500-hp engines sound @ 04:00min
Race parts in shop @ 08:00min
Scania streamline more then 500+hp engines sound @ 09:00min
Scania T model modv1.3 stock,shop,tuned parts showed @ 12:00min
BCD SCANIA Race Pack
————————————
Whats in this mod ?
—————————
Sick V8 scania sound
Cool skin liverys
Race Parts for trucks
Lowerd chassis
Custom Creations
————————
Created by Duck & Bennekeben
Creations by Duck
Stand alone Real Life Race Skin for Scania trucks.
Creations by Bennekeben
Race Engines 1000-2500hp from megadiscountmod
Custom created Race Engine sound for Scania rcab and streamline Engines
Custom gearboxes 6-8-10 speed
More info? go to http://1manarmyfans.webs.com
So many nice scaniav8 sounds idk what to choose..this is my version of the sound..
3 different sounds depending on what kind of engines u choose!
Credits:
Bennekeben & Duck187
DOWNLOAD 108 MB