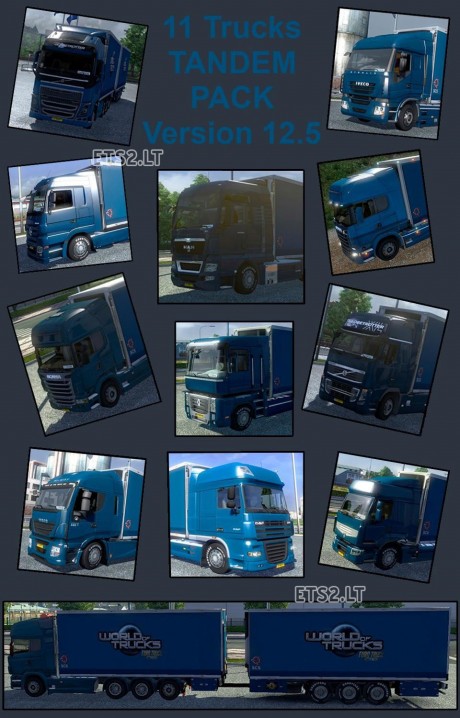 UPDATE: Update v14.0
Latest update give you the Profiliner and Universal trailer + Profiliner and Universal box to the truck. So now you can choose between 3 types in boxes and trailers.
New sideskirts which fits both 6×4 and 8×4 better. Also Wheel index errors has been removed.
Credit: Flemming Vinge, SCS and Blender (with 50keda's Blender plugin), Huge thanks to jgut and InVTaR for giving me inspiration.
Download it without commercials, you do not even need to wait for any countdown. No DL speed limit, no password before DL, no mod protection and of course 100% Free. 🙂
Mod Compatible:
This mod work together with almost all mods out there. But some other truck mods could cause problems.
Compatible with ETS2 v1.8.x, 1.9.x and some older versions.
In game:
Object: 11 Standalone trucks with 3 different trailers
Chassis Name: Chassis 6×4 Tandem
Chassis Name: Chassis 8×4 Tandem
Coolerbox Name: Coolliner, Profiliner and Universal Tandem (SCS version)
Level: 12
Extra Stuff: Cabin, Sideskirts and exhaust pipes up behind cabin, letter painted trailer wheels.
About:
This is 11 standalone trucks with trailer (BDF tandem) and tandem cargo to haul.
To drive these trucks you need to go to your favorite truck dealer and upgrade a truck.
Select Chassis 8×4 Tandem and select the dot just behind cabin to add the Coolerbox.
You can paint and upgrade the truck with accessories just like all other stock trucks in game.
Sleep once or twice in the game will make you see alot of tandem cargo trailers to haul.
This trailer will let you haul about 22 different cargo types from 18t to 25t.
Replacing: No model will be replaced. This is standalone.
Make your own name:
Edit all the devil.dds files in your favorit DDS editor to have your own skin.
The devil.dds file is located in: vehicle\trailer_eu\tandem\coolliner\textures\ and
vehicle\truck\upgrade\cargo\tandem\textures\ and vehicle\truck\**truckname**\textures\
Just overwrite all these devil.dds files with your own colors and your are good to go. 😉
Authors: Flemming Vinge, SCS ir Blender (50keda's Blender)
DOWNLOAD 301 MB