[Beta-Release] Pacton Flex-XL Container Pack v 6.0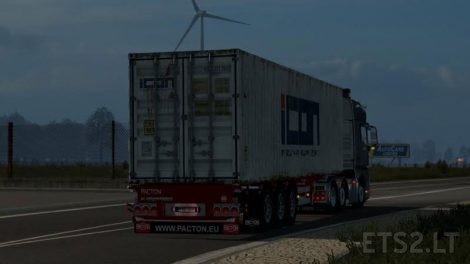 Trailers included:
empty chassis, 20ft and 40ft
2x 20ft chassis with 18 Skins each
20ft chrome cistern container
40ft container
40ft high cube container
40 ft reefer container
45ft container
(I think) 30ft tank container.
All Trailers with all skins in traffic.
Model is quite high poly but runs well on my GTX660 2gig,
No new models this time, but lots of improvement. Added tons of skins from Arnook. Almost no more double or triple skins on 45ft, 22ft. tank, 40ft low cube (still more to come).
Reduced polycount on most trailers for better performance. Changed wheels for better performance. Some more minor tweaks.
Credits:
Author: MarcDo
original Trailer: unknown (if someone knows this, please let me know)
Trailer Edit: Richal Lechuza/Donaldboy
Trailer re-Edit: MarcDo
Containers and Skins: EED123, Tony1971, Holly, Samson, SheryO, Nordisch, Pauli, Arnook, Reyhan Ramadhan, Roadhunter, Capelle, Gordon_Gecko, MarcDo
License plate illumination: Ohaha
Marker Lights: Powerkasi
new Chassis Materials: Gordon_Gecko
Trailer Storage and Traffic Storage Def Files: Harald_RS
DOWNLOAD 144 MB
Popular mods