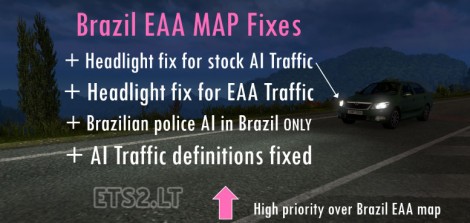 AI Traffic Fixes for EAA Brazil Map
Must be placed in higher priority than the EAA Brazil Map.
Changelog v2.3:
* New country definitions for South Korea Adventure Map v5.0 so you won't see Brazil police cars spawning in the countries included in that map.
Features:
* High intensity headlights from stock AI traffic plus EAA's Volkswagen Constellation and Scania P changed to default intensity
(now not insanely bright)
* Brazilian police in AI traffic will now only appear in Brazil
* Magic mark bugs fixed for AI traffic in certain Brazil countries
Compatible for and tested on version 1.21.1 with EAA Brazil Map 2.9
No errors in game log.
NOTE:
Will not work with 1.22.x until Brazil EAA Map has been updated to new patch
Author: Drive Safely
DOWNLOAD 124 KB [Drive.google]
DOWNLOAD 124 KB [Sharemods]