Brødrene Thomsen Combo Pack v1.1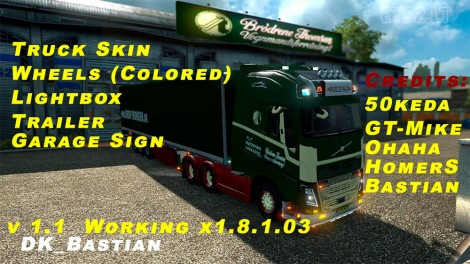 This is one of the mods i made that i've decided not to upload…. But now Im uploading It, and i might put more of my work up later on!!!!
And i also take Ideas in on my Question & Ideas Email
——————————
[email protected]
——————————
Installing & Help
Just place all the files in your mod folder then activate them ingame and your good to go!!!!
(TO SEE THE SKIN DOWNLOAD OHAHA's VOLVO FH16 2013 v18.7 The Link Is in the Desc)
P.s U dont have to download the mods in the Desc cause all the mods are in download link it was just so u know what Version and who made them….
Version & Info
THIS MOD CONTAINS
*Brødrene Thomsen Truck Skin By DK_Bastian (FH16 2013 Volvo by Ohaha)
*Trailer made by DK_Bastian
*Colored Wheels (GT-Mike)
*Garage Sign (HomerS)
Many mods a collected in one, in my mod I'll hope you enjoy the mod and tell me if theres any problems!!!!!
– Truck Model: Volvo FH16 2013 v18.7 by Ohaha
– Working & Tested on x1.18.1.3
– It should work with newer version of, Ohaha's Volvo, and future game updates.
– Changelog
– Added Trailer
– Fixed little red line on the truck
~E-Mail: [email protected]
~~Steam: [Your Way Forward] Bastian [DK]
~~~Skype: bastian.b.villadsen
Copyrights
[DO NOT RE-UPLOAD THIS SKIN WITHOUT PERMISSION IF I SEE THIS SKIN ON OTHER WEBSITES I WILL GET THEM DELETED!]
Credits:
Bastian, Ohaha, 50keda, HomerS, SCS
Popular mods