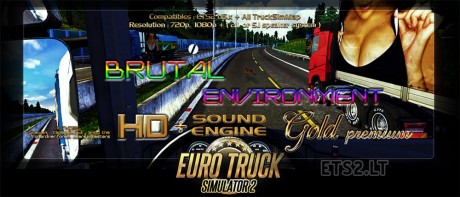 ONLY!!! Ets2 1.15.x version (Not runing Ets2 version 1.14.x and older)
Key Aspects of the "Brutal environment Gold Premium" version:
Enhanced gaming Experience
01: Faster FPS than of factory default game!
02: additional sound repairs.
03: Additional NEW options clouds.
04: Additional NEW options ALL weather changes.
05: Additional NEW options all skybox.
06: DEFAULT GAME additional textures expansion.
07: TSM additional textures expansion.
08: New 3000 HP "Stewen" truck engine open if level 15.
09: running operation without "errors" and "warnings"
10: driving, listen 2.1 or 5.1 sound system, enjoy the game my Brutal HD + sound engines Gold Premium !
Please use game settings "Color correction OFF"
This version "yellow road lines".
material/road/lines.dds
deleted this "lines.dds" and use Game default white line !
If Rename usage white road line:
delete material/road/lines.dds or rename material/road/lines_w.dds to lines.dds and overwrite.
my lines version white:
material/road/lines_w.dds (not use game this form)
my lines version yellow:
material/road/lines_y.dds (not use game this form)
game use "lines.dds" form.
Credits:
Stewen, tagagaba53, and prohardver forum users & testers.
Brutal Environment ONLY HD engine Gold Premium
DOWNLOAD 702 MB
Brutal Environment ONLY SOUND engine Gold Premium
DOWNLOAD 279 MB
External Volume Up to Ets2 Patch 1.15.x
DOWNLOAD 4 KB
Bonus Link:
Brutal Ext volume up + No Damage Patch to 1.15.x
DOWNLOAD 4 KB
Video:
http://youtu.be/JcmgYBEoTvI