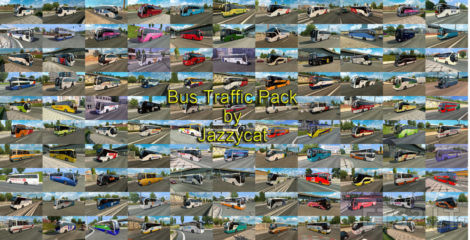 Pack adds in traffic 37 new models of buses with 851 skins (Setra, Neoplan, Volvo, Man, Mercedes-Benz, Ikarus, Scania, Ayats, Irizar, Temsa, Irisbus, Jelcz, Karosa, Caetano).
All standalone, works on any maps.
Compatible with all my packs.
Tested on version 1.33.x
Version 6.2 – added 12 new skins of real French and Swedish bus operators.
PS Looking for quality lowpoly 3d models VDL(Bova), Van Hool, Iveco buses.
Credits:
Jazzycat
DOWNLOAD 245 MB [Sharemods]
DOWNLOAD 245 MB [Modsbase]