Changelog v1.1:
– less shine on paint material
– new collisions models
– adjusted hook position
– adjusted wheels position
standalone
trailer ownership and freight market support
visible in traffic
advanced coupling
trailer cables
liftable axle
accessories included real 3D Europoint II rear lamps
paintjobs
AO textures
3 body variants available (different capacity, dimensions and shape)
2 chassis lenght types
Trailers are compatibile with abasstreppas trailer's lights (3rd picture), Signs on your Trailer mod by tobrago and for some more stuff
Credits:
– SCS Software
– trailer's chassis base on model to GTS made by: adam1205 (?), Tomaz (?)
– original standard wheels model: unknown
– all other work: Racing
DOWNLOAD 62 MB
14 Mammut Standalone Fuel Tankers in one package.
In traffic.
Here is a list of changes
(V2.3):
– Added support for trailer cables,
– Fixed cog_height_offset warning,
– Made some adjustments to the collision boxes to make the trailer work better with improved grip,
– Other minor visual improvements.
– Added template.
Assembly content:
The following skins are added to the base file:
1. Texaco.
2. Squirrel Fuel Trailer.
3. Eddie Stobart Fuel Tanker.
4. Shell Fuels Tanker.
5. BP Ultimate Fuel Trailer.
6. DHL Fuel Tanker.
7. Gulf Fuel Tanker.
8. Orlen Transport.
9. Squirrel Oils Tanker.
10. Toll Fuel Tanker.
11. Turners of Soham Tanker.
Skin author: Pauly
The new skin of the tanker is selected on the basis of the company in the trailer browser (shown in the screenshots).
This is an autonomous tank trailer, originally made by the HEMPAM group for ETS2 1.22 and
updated to the latest version of the game (i.e. 1.34).
It will appear in the list of orders for:
diesel fuel
fuel oil,
kerosene,
oil and gasoline.
Credits:
HEMPAM GROUP, Harven, Pauly, Lucasi. packed : losevo58
DOWNLOAD 11 MB
Nagyvati Logistic owned trailer skin (Any trailer)
Unlocked level 1
Price 12000
Tested Version 1.34.xx.xxxx
Enjoy!
Credits:
Jegesh
DOWNLOAD 918 KB
Paintjob for all variants of Ekeri Semitrailers and small trailers, enjoy.
If you wanna buy me a coffee (or a beer) you can do it [url=PayPal.Me/VandallRTR] right here [/url].
PS: Respect my work (and ALL modders for that matter) and keep the download link and don't repost!
Credits:
tyb33rk, SCS, kast
DOWNLOAD 5 MB
This skin LIDL To Krone trailer tested EURO TRUCK SIMULATOR 2
1.34
Credits:
SCHMITZ AND KRONE FAN
DOWNLOAD 3 MB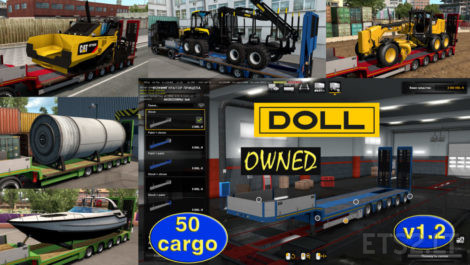 Ownable overweight trailer Doll Panther
Standalone
Advanced coupling
Cables simulation
Customisable
5 axles
2 chassis variants
50 overweight cargo
For version 1.33.x, 1.34.x
Models by Gallinger, Giants Software, Weltenbauer Software, Visual Imagination, PlayWay SA, Cape, Code Horizon
Version 1.2 – added 10 new cargo: Yacht, Big Tank, Electrical Substation, Silo Towers, Sawmill Equipment and different Building Construction and Materials.
Credits:
Jazzycat