i made this for fun but it is nice so i uploaded it
cargo:nokia3310
mass: 30000kg
Credits:
kuba5533
DOWNLOAD 5 MB

Modersteller: DaviD_SRB
Modskinner: Ossi Gamer
Credits:
DaviD_SRB
DOWNLOAD 138 MB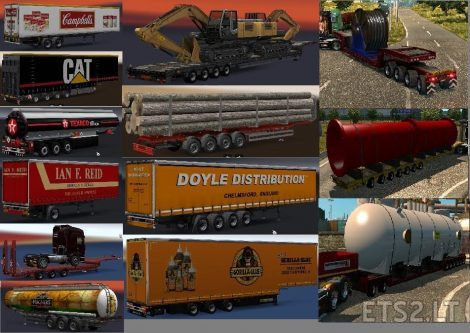 This addon is intended for fans of unusual traffic and heavy cargo.
This addition increased the mass 53 Chris45's cargoes and 31 standard cargoes.
The main mod you can download on this site or on other sites dedicated to this game, for example: ets2.lt/en/chris45-trailers-pack-v-9-07-for-ets2-v1-28/#more-172296
This mod does not claim to full realism.
Connecting in the game:
1. Plug mod map.
2. Connect the main mod (Chris45 Trailer Pack 9.07) in the game
3. Connect the addon (Chris45 Trailers V9.07 Heavy) in the game.
ATTENTION! THIS VERY IMPORTANT!
Priority file Chris45 Trailers V9.07 Heavy.scs must be higher then file Chris45 Trailers V9.07.scs !!!!!!!!!
If this is ignored, the mass of trailers will not change!
ATTENTION! WITHOUT BASE MOD WILL NOT WORK!
Credits:
Author of the main mod: Chris45 Author of this addon: Tornado
DOWNLOAD 80 KB

Modersteller: DaviD_SRB
Modskinner: Ossi GAMER
Credits:
DaviD_SRB
DOWNLOAD 138 MB

Tested on version 1.28.x
Standalone
Ai Traffic
Crédits:
Trailers:
Bora
MDModding
Fred_be
Skins:
Nordish
Maryva
This mod changes the game for companies in the Brazilian and multinational companies in Brazil.
Company:
Red Box Transportes
Red Box Cebrace 1
Red Box Cebrace 2
Cebrace
JSL Transportes
Ritmo Logística
Ouro Verde Transportes
AGC Brasil
Saint-Gobain
Pilkington
Please also keep the original link.
Credits:
Bora, MDModding, Fred_be, Maryva
Compatible Mod For Version: 1.28.x
Tested On 1.28.1.3 Passed !
Standalone Trailer
No Drop Frame
Bug`s Fixed.
Added Beacon Light For Trailer
The Wheels in This Version Has With Rotating
⛔️ Pls Dont ReUpload this File on other Host ⛔️
Enjoy It !
Credits:
SCS, MehdiAnti
DOWNLOAD 28 MB