Tested 1.35
-Standalone
-Purchasable ONLY
-4 skins available
-Advanced coupling
-Animation brace
-Animation cables
-Liftaxles
-News textures (full AO)
Credits:
SCS Software, Quentin, Nabil, MDModding, stewowe
DOWNLOAD 35 MB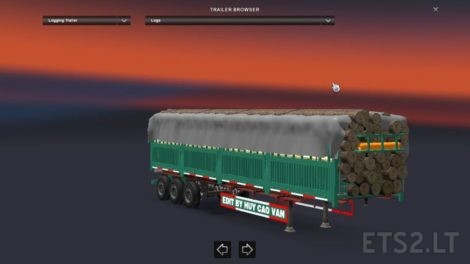 all versions
Can search trailer name: Logging trailer or log trailer
Credits:
Huy Cao Văn
DOWNLOAD 32 MB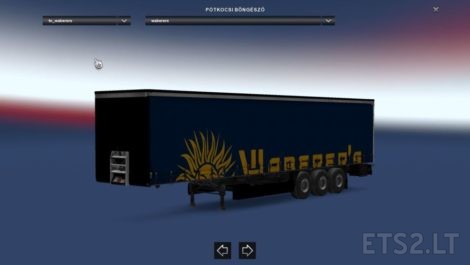 This is a mod mod trailer. Hungarian Waberer "s want to skint.
Credits:
Rádl Péter (Hungaryan)
DOWNLOAD 7 MB

Update of the mod, as it was released the bi-train and the double in Germany, I changed some companies of place, Braspress went to France and Coopercarga to Italy and Eureka and Expresso Rodominas to their place adapting the mod to the bi- train and double rooms.
This mod only modifies the skins of the game, it only uses the SCS settings.
Maps used:
Original Map more DLC Scandinavia, DLC France, DLC Italy, DLC Going East and DLC Baltic
Promods 2.40
RBR Map (except stand-alone companies)
EAA Map (except stand-alone companies)
RC Map (Traffic only and European part)
Eldorado Free (except business standalones)
Tested on version 1.35
Link Steam
https://steamcommunity.com/sharedfiles/filedetails/?id=1566616535&result=1
Credits:
Maryva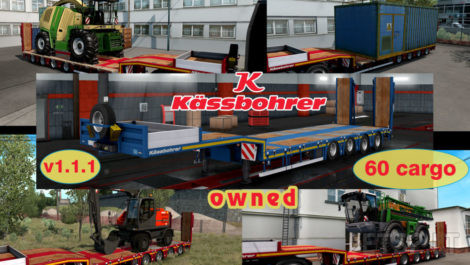 Ownable overweight trailer Kassbohrer LB4E
Standalone
Advanced coupling
Cables simulation
Customisable
60 overweight cargo
2 chassis variants
Tested on version 1.35.x
Models by Jekich, Ice Flames, Giants Software, Weltenbauer Software, Visual Imagination, PlayWay SA, Cape, Code Horizon
Version 1.1.1 – adaptation for patch 1.35.x
Credits:
Jazzycat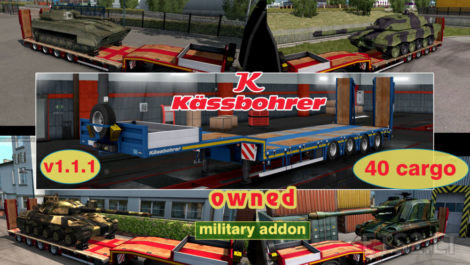 Adds 40 military cargo for ownable overweight trailer Kassbohrer LB4E
You need main mod 'Ownable Overweight Trailer Kassbohrer LB4E'
Priority in mod manager is not important.
Tested on version 1.35.x
Models by Eugen Systems, Obsidian Entertainment, Bohemia Interactive, Treyarch, Infinity Ward
Version 1.1.1 – adaptation for patch 1.35.x
Credits:
Jazzycat