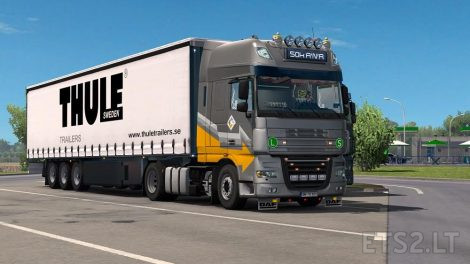 Changelog for actual ver. 4.5
– Added new chassis 4×2 Low Deck
– Added tires 315/60 R22.5 (recommended for Low Deck chassis)
– Added option cabin SC
– Added external interiors for SC cabin.
– MX265 engine is no longer available !!!
– Changed logic of the fog lamp in bamere: external foglights switched on F4, domestic – together with the main beam.
– Added to the slots on top of the grille and the radiator grille chassis.
– Added 3 types of headlights in the front grill.
– Added a bracket with lamps under the short side skirts (ie skirts, mounted on the chassis 6x)
– Added a plastic strip on the grille of the chassis.
– Added to the navigator and the background for the navigator
– Added removable center console and carpets at the torpedo.
– Added deflectors at the side windows.
– Added LDWS sensor.
– Various fixes in the salons of the model.
– 6x revised standard chassis.
– Fixed found bugs.
– and other.
Credits:
vad&k, SCS Software, 50k
DOWNLOAD 48 MB