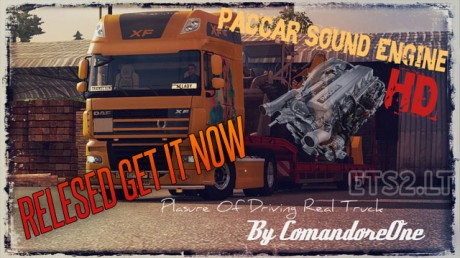 SO LONG AWAITED SOUND MOD DAF PACCAR ETS2 FROM ComandoreOne.
Totaly New Revised and Realistic DAF XF 105 Paccar Sound Mod for Euro Truck Simmulator 2 Don't Miss this!
Hello everyone my dear friends my viewers my BEST AUDIENCE!! So today bring you a new sound mod for SCS DAF and 50Keda's DAF The PACCAR SOUND MOD, hope you like this fantastic sound mod as i do! There was so much time and effort in making this sound mod for you!
This may be the final product or not, but don't forget to visit scs forum to always get a last and updated versions of sounds mods from me ComandoreOne!
And sorry for so long time not posting anything about ETS2!
Guys any questions feel free to comment and ask also leave your feedback and your impressions about mod and do not post unessesary comments, if you don't like don't downlaod i'm not forcing anyone, respect my work as i do respect you.
Stay Tuned for more Special ETS2 Content!
Thanks for downloading ComandoreOne.
Credits:
ComandoreOne
DOWNLOAD 31 MB
Enjoy the video: