Dangerous Turn Lights ETS2 1.32.XX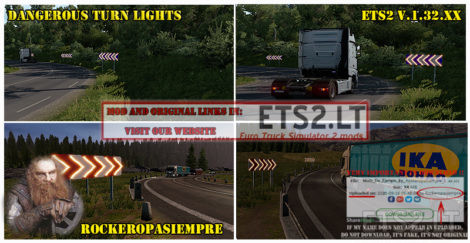 PROHIBITED UPLOAD THE WORK TO ANY SERVER WITHOUT PERMISSIONS.
Changes in this version:
– Updated old files.
– Fixed bug in a texture.
– Adapted the .pmg and .mat files for the new version 1.32 of ETS2.
– Signs of illuminated curves in more countries of the original map.
Author: Satan1990. Subsequent modifications Solaris36, Blaquides, Rockeropasiempre.
Weight of the file: 563 Kb
a greeting
Credits:
Rockeropasiempre
DOWNLOAD 551 KB
Popular mods