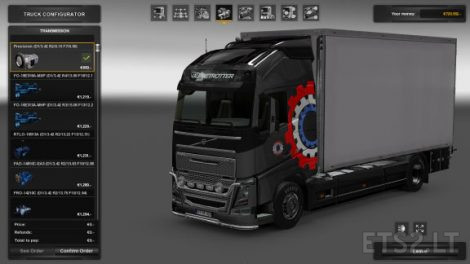 EATON FULLER TRANSMISSIONS MOD BY TRESCO
About Mod
Add 14 Eaton Fuller transmissions for Volvo FH16 2012 truck.
Technical information about transmissions and differentials are in archive.
All transmissions are with retarder. Don't know if is true in real life.
Load order and my installed mods you can see on image files.
Transmissions Name in mod
Model (Dxx/yy.yy Rxx/yy.yy Fxx/yy.yy)
where:
Model – transmission model name
Dxx – differential speeds number
Rxx – reverse speeds number
Fxx – forward speeds number
yy.yy – gear ratio for first speed differential, reverse or forward
Example
FO-18E318B-VXP (D1/3.42 R4/15.06 F18/14.40)
Testing Conditions
Tested on ETS2 1.25 but no reason to not work on ETS2 1.24 at least.
Truck test Volvo FH16 2012 4×2 Coolliner 750HP.
For better drive simulation I made some change on:
– physics.sii:
cabin_pitch_force_scaling_factor: 2.0//(1.0 default)
cabin_pitch_damping_factor: 2.0//(1.0 default)
cabin_roll_force_scaling_factor: 2.0//(1.0 default)
cabin_roll_damping_factor: 2.0//(1.0 default)
cabin_mass: 900.0//(300.0 default)
wheel_mass: 100.0//(100.0 default)
damping_scaling_front_factor: 2.0//(1.0 default)
damping_scaling_rear_factor: 2.0//(1.0 default)
damping_scaling_trailer_factor: 2.0//(1.0 default)
transmission_viscosity_retarder_factor: 5.0//(1.0 default)
– chassis_name.sii:
kerb_weight[0]: 56000.1
kerb_weight[1]: 7000.1
…………………..
kerb_weight[n]: 7000.1
My rules for Total__Weight and Engine_HP correlation, mass in kg:
Example for Volvo FH16 2012 4×2 Coolliner 750HP:
cabin_mass: 900
wheel_mass: 100
kerb_weight[0]: 56000
kerb_weight[1]: 7000
———————-
Truck__Weight: 64000
Cargo__Weight: 5000 to 30000
———————-
Total__Weight: 69000 to 94000
Engine_HP: (69000 to 94000)/100
=> (690 to 940)HP
=> 690HP < Engine_HP < 940HP => Engine_HP: 750HP
Thank you Rockeropasiempre and Fleming V for sources of inspiration and mods:
Mega Pack Engines and gearboxes 5.0 – Rockeropasiempre;
BDF Tandem Blank Skin – Flemming V;
BDF Tandem Mixed Coolliner Trailers Pack – Flemming V;
BDF Tandem Truck Pack – Flemming V.
More information on game mod info and archive Read Me First.txt file
That's all folks!!!
Drive, Drive, Drive!!!
Credits:
Tresco
DOWNLOAD 20.4 MB