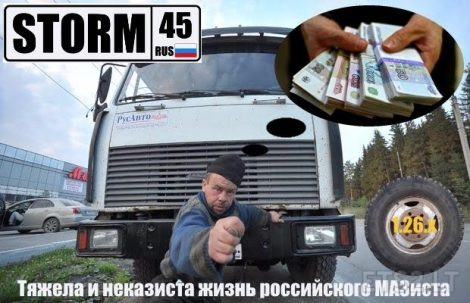 Tired to roll out millions? Entangled in garages and staff? Try to earn money in Russia.
Hard money. Russia.
Recommended for Russian cards. Test RusMap and the Orient Express. In Europe is unlikely.
1. Real gasoline prices on 20 Dec 2016
2. The real penalties of 2016.
3. Earnings will be 35 to 50 rubles/km (excluding fuel) + 3000 RUB travel.
for example: in a flight of 600 km, the net profit will be around 15000+-5000 rubles, depending on the load.
4. The mode of operation of the driver is changed: now you can go 12h., and sleep 6h.
5. Changed Bank loans.
6. Changed incomes of hired drivers.
7. Added currency: Russian ruble.
Recommended in game settings to enable emulation of fatigue and realistic fuel consumption.
It is recommended to start a new profile to start earning from scratch. Great for games on
Russian trucks. They are valued less and atmospheric 🙂
To earn, you will have a lot of drive. So, the mod is for the patient.
Credits:
Storm_45
DOWNLOAD 50 KB