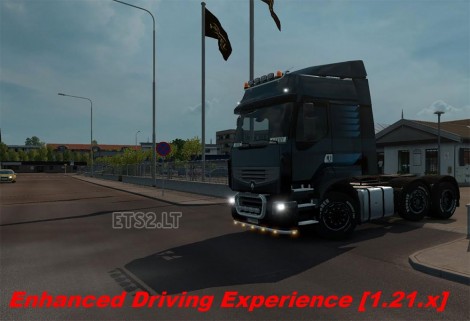 This is a little mod package that I originally made for myself in order to make the driving experience AND the in-game experience a little more "realistic". It contains several modifications to definitions and sounds. It has remained private for several versions of ETS2…until now.
Here is an outline of what has changed:
Code:
DEFINITIONS
– Camera
– All trucks have an interior Field of View (FoV) of 70.
– Vehicles
– All AI cars, trucks, and buses have realistic top speeds.
– Top speed for every car varies according to their tire specifications based on research from the Tire Rack website.
– Top speed for every truck is 90 km/h. They have been at their correct setting ever since, but I included them anyway to be sure.
– Top speed for the MAN Opalin is 100 km/h. This bus also has been at the correct setting.
– World
– Traffic signals have longer and realistic timings, but not to a point where you have to wait for more than 2-3 minutes to cross a major intersection…unless you're in the left lane full of cars trying to turn left.
– Green light interval is 20 seconds.
– Amber (yellow) light interval is 3 seconds.
– 4-second delay interval between signals.
I hope you all have a better driving experience with my mod pack. Have a safe drive! Feedback is always welcome.
Credits:
Boeing73FLY
DOWNLOAD 391 KB