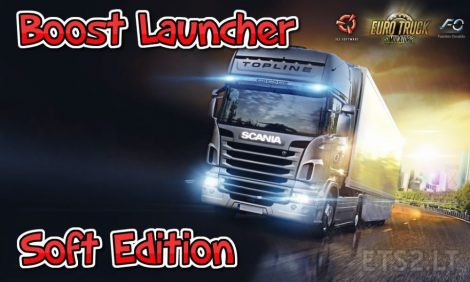 ETS2 Boost Launcher (Soft Edition)
What is this script and what is do?
This is special batch script created special for ETS2 in future i will make for ATS too. This script shutdown necessary processes,increase overall performance of computer, improve FPS in game and make game run in High Priority for better performance,fps,loading….etc
Script work automatically so you not need press anything just run and thats all. After you finish playing script will automatically restore all settings. For now i made script to work only with Steam version of ETS2
What is the difference Hardcore Edition vs. Soft Edition?
Hardcore Edition
-More closed processes
-Better performance
-Uploaded only on my Patreon website
Soft Edition
-Close windows explorer and few other processes
-Little improvements in performance
-Uploaded only on ets2.lt
For Hardcore version visit my Patreon website
https://www.patreon.com/blinktmods
Credits:
BLiNKT
DOWNLOAD 1 KB