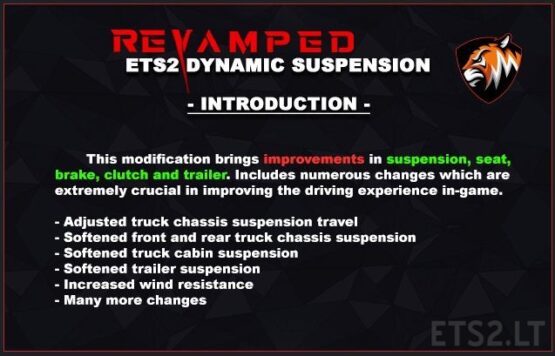 This modification brings improvements in suspension, seat, brake, clutch and trailer. Includes numerous changes which are extremely crucial in improving the driving experience in-game.
Changelog 6.4.3.3:
– Added compatibility for 1.49 game version
—————————————————————————————————————–
Connection order: This mod should be set at high priority / above other physics mod!
Mod compatibility: This mod should work with all default trucks and the modded ones!
Modded Trucks compatibility: On your choice! Read the README.txt file included in the archive!
——————————————————————————————–
⚠️⚠️⚠️ Recommended settings: ⚠️⚠️⚠️
✔️Steering sensitivity 0.75
✔️Braking intensity 100%
✔️Truck stability 50%
✔️Trailer stability 50%
✔️Driveshaft torque 0% – 100% #Optional (use percentage as you like)
✔️Suspension stiffness 0%
✔️Cabin suspension stiffness 0%
✔️Uneven surface simulation 70% #Optional (use percentage as you like)
✔️Anti-Lock Braking System (ABS) – ON ✅
✔️Traction Control – ON ✅
Note: If recommended settings aren't proper for yourself, feel free to adjust them.
—————————————————————————————————————–
—————————————————————————————————————–
If you enjoy my mod and want to share your appreciation, you can buy me a coffee. (づ。◕‿‿◕。)づ
💶Paypal: https://www.paypal.com/donate/?hosted_button_id=4XRCFKAAAVKM8
💵Patreon: https://www.patreon.com/tigermods
Credits:
TheTiger
DOWNLOAD 252 KB