Exhausts for Trucks v 1.5 by Nico2k4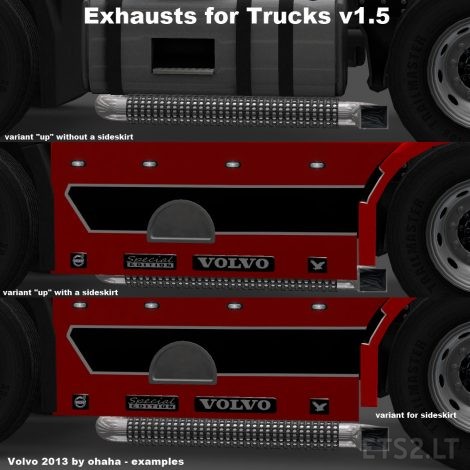 What's new:
– Added support to:
– Scania R700 by AU44…
– Volvo FH13 Classic by Maniek4800
– Added missing def files (right exhausts) for Renault Magnum Trucks.
– Added variant "up" (without a sideskirt) in:
– DAF XF Euro 6 by SCS, ohaha & Chassis Addon by Pendragon
– Iveco Stralis by SCS
– Mercedes Benz Actros by SCS
– Volvo 2013 by ohaha
– Few small fixes.
You can find them in exhaust left and right.
Tested on 1.24.4.3 – works fine on older versions.
Full list of supported trucks in "info.txt".
Have Fun!
Nico2k4
Authors: SCS, Drivter, Nico2k4
DOWNLOAD 44 MB
Popular mods