Exhausts for Trucks v1.1 by Nico2k4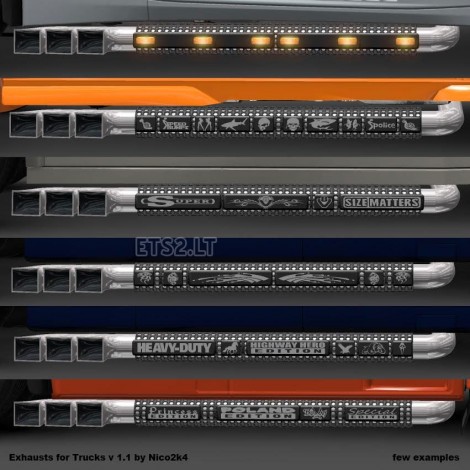 – Add:
– square exhaust outlet for all Galaxy I/II/III (v.2)
– 3 empty black panels (small, medium & large)
– 33 emblems (together now is: 120+3 empty)
You can find them in exhaust left and right.
Tested on 1.20.1 – works fine on older versions.
Mod is compatible with my highpipes mod.
You can use emblems, badges in the center slot.
Mod supports more than 25 trucks.
More info and full list of supported trucks in "info.txt".
Have Fun!
Nico2k4
…respect download link…
Credits:
SCS, Drivter, Nico2k4
DOWNLOAD 15.3 MB
Popular mods