FPS Increase v 2.3 TEST for 1.20.x Steam Beta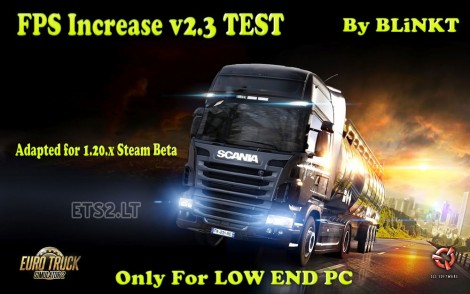 DO NOT USE THIS ON 1.18.x or 1.19.x because work only on 1.20.x Steam Beta
WARNING mod is in TEST stage and is not finished yet!
READ INSTRUCTIONS BEFORE DO ANYTHING!
Changes in v2.3
– All changes is same like v2.2 i only make few small changes
– Adapted for 1.20.x STEAM BETA ONLY
FPS INFO (with my specs)
Inside of cabine = 40-45fps
Outside of cabine =50-60fps
In city is same all is depend does you drive inside of cabine or outside of cabine
Please REPORT your FPS on my facebook page because i need to know does this mod work good for you and what i must fix or change!
https://www.facebook.com/ets2modsbyblinkt
DO NOT REUPLAOD WITHOUT MY PERMISSION!
Author: BLiNKT
Popular mods