Freightliner Argosy Reworked V2.2.1 For Ets2 1.24.xx By H.trucker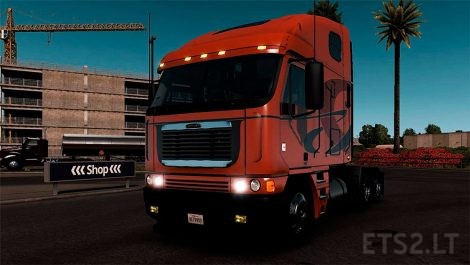 This truck is based on the model Freightliner Argosy Reworked v2.0 for ETS2 of odd_fellow but is adapted to work in version 1.24 of Euro Truck Simulator 2
Freightliner Argosy Reworked v2.0 for ETS2 of odd_fellow link:
Buy in Volvo dealership.
Changelog:
NEW IN 2.2.1
————-
– Adapted to work on Euro Truck Simulator 2 1.24 or higher
– Added added Advanced Trailer Coupling. You need to activate the option in Options > Gameplay > Advance trailer coupling and click the box for activate
– Removed unnecessary and obsolete files
– Adapted interior cabin view, very similar to the previous models
– You must have Wheel Tuning Pack DLC for wheels
Tested on version 1.24.4.3s
2.1 (DONE BY FRANK_WOT)
————-
-Fix to work on ATS v1.2
-Cummins Signature and CAT C16 engines added (own sound)
-Transmissions added with different DIFF ratios
-Company trucks added to use in Quick Job
-New 6×4 and 6×6 chasssis added with heavier axles and bigger fuel tanks
2.0
————-
-4 cabin variants
-Cabin physics enabled (may be minor clipping)
-New bumper variants
-New rear lights and mudguard variants
-New visor variants
-New front and side mirrors
-New tanks (fixed proportions)
-Reworked headlights, real life lightmask
-Additional interior tuning
-Sound inside the cabin normalized (lowered exhaust sounds), if you don't like it you can swap sound .sii files from the previous version
-Reworked raised roof geometry to make it more smooth
-Changed interior light hookup (light still leaks to outside of cabin, but there is nothing i could do)
-New paintjobs, bumper and roof cameras, author – Piva
-UV-map finally fixed, for real this time (i hope so)
-All engines sound update (turbo, gear shift etc)
And probably something else i forgot to mention.
It would be better to sell your old truck before installing this mod, otherwise some bad things will happen.
1.1
————-
-Fixed shadow issues in raised roof interior
-Fixed fifth wheel position for standard trailers
-Fixed cabin uv-map (small issues)
-Added new chrome stoneguard and two new mudflap options
-Some sound fixes
-Added missing icons
Rig'n'Roll authors: Softclub-NSK
Some parts were borrowed from different trucks, authors: dmitry68, stas556
Misc details used inside: don't know/can't remember
Sound author: odd_fellow
Interior camera: kimi112
Wheels: ventyres
Pretty much everything else was made by me (odd_fellow) and SCS.
PLEASE DO NOT UPLOAD TO ANOTHER SERVER!!!!!
Credits:
H.Trucker, SCS Software, stas556, dmitry68, odd_fellow, FRANK_WOT, Kriechbaum (sound files)
DOWNLOAD 137 MB
DOWNLOAD 137 MB [Mirror]
Popular mods