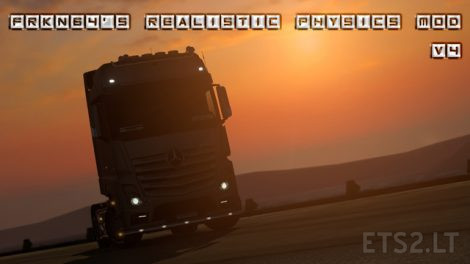 Description:
_________________________________________________________
Visit the Steam Workshop page for more information and pictures about the mod.
========================================
• Physics values improved for more realistic physics.
• Cabin's inside shake has been set more realistic.
• Driving is more realistic now in rainy and sunny weather.
• Improved suspensions.
• Brakes were strengthened.
• Supports all non-modded trucks.
• This mod is not compatible to some AI Traffic mods.
Note: This mod will continue to be develop and update.
————————– COPYRIGHT INFORMATION ————————–
Don't change the link while sharing this mod on other sites!
Don't edit the mod files without my permission!
If you do these, a copyright infringement will be reported to the relevant authority.
Credits:
Frkn64 Modding
DOWNLOAD 101 KB