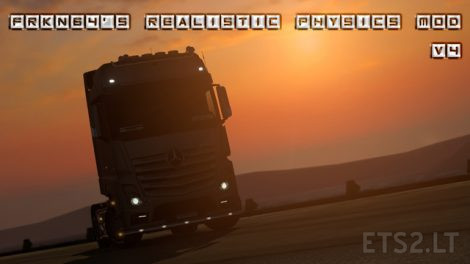 • Physics values improved for more realistic physics.
• Cabin's inside shake has been set more realistic.
• Driving is more realistic now in rainy and sunny weather.
• Improved suspensions.
• Brakes were strengthened.
• Supports all non-modded trucks.
• This mod is not compatible to some AI Traffic mods.
Note: This mod will continue to be develop and update.
Update v4.5 – Physics improvements for 8×4 chassis trucks.
————————– COPYRIGHT INFORMATION ————————–
Don't edit the mod files without our permission!
Don't change the link while sharing this mod on other sites!
If you do these, a copyright infringement will be reported to the administration of the site you shared our mod.
Credits:
Frkn64 Modding
DOWNLOAD 104 KB