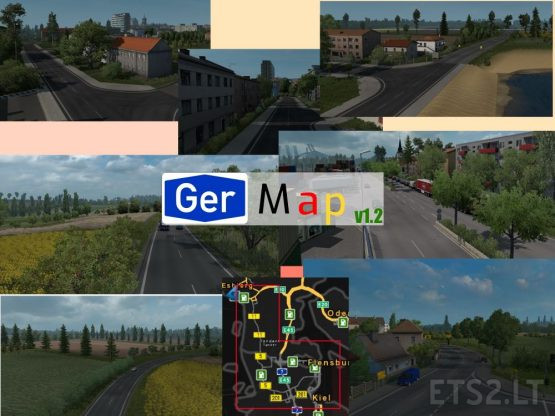 For game version 1.35. Scandinavia, Italia and Beyond the Baltic Sea DLCs ARE REQUIRED!
Compatible with all other maps EXCEPT ProMods!
This mod adds roads in Northern Germany and Denmark.
After some critical bugs were detected (invisible walls, flags on the road, AI vehicles disappearing), I decided to bring out a bugfix release for the map.
Changes in v1.2
– Fixed several bugs
– Improved signage
Changes in v1.1
– Fixed several bugs
Changes in v1.0
in Denmark:
– small town Tønder
– Primaerroute 11 from Esbjerg to border
– small texture changes around Esbjerg
– Esbjerg extended
in Germany:
– small town Husum (invisible)
– city of Flensburg
– B5 from border to Husum
– B201 from Husum to Flensburg
– parts of B199 and B76
– rebuilt A7 from border to Schleswig, including exits 2 and 5
– more than 200 kilometres of in-game roads
UI:
– 7 unique loading screens
Credits:
Topolino, The Nightgames (map); Kirrou (prefabs); feliweigi (signs)
DOWNLOAD 5 MB