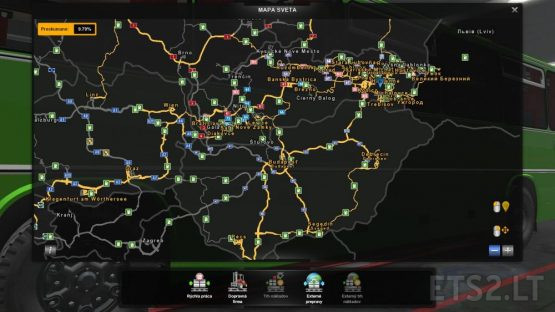 WHAT IS NEW?
+ Fixed Red Gates, Garages, Truck Dealers, New Profile and Jobs !!!!
+ No shut down game with errors AT LEAST !!!!
+ Bugs Fixed
To end of year 2019 I want compatibility with ProMods 😀
PM Blog:
https://promods.net/viewtopic.php?p=272462
———————————————————————————-
NOW IS MAKING IN MAP (FULL):
Levoča
OLD DEFINITION OF MAP:
It's New Slovakia Map with all of Europe countries. You will need expansion – ETS 2 Going East and Baltic Sea.
INCLUDED (IN FULL = UPPERCASE CITIES):
– 28 New Slovakian Cities (Humenné, Snina, Vyšná Jablonka, Roškovce, Hostovice, Michalovce, Trebišov, Poprad, Nitra, Trenčín, Kysucké Nové Mesto, POVAŽSKÁ BYSTRICA, Šaľa, Nové Zámky, Stará Ľubovňa, Sabinov, Brezno, RIMAVSKÁ SOBOTA, Čierny Balog, HOLÍČ, KORYTÁRKY, Giraltovce, Galanta, DIAKOVCE, Levice, Štúrovo, Prešov, Sobrance)
– 4 New Slovakian MiniCities (SVIDNÍK, Ružomberok, ZVOLEN, TRNAVA)
–
2 Old SCS Slovakian Cities (Bratislava, Banská Bystrica)
– 3 New Ukraine Cities (Užhorod, Velikij Bereznyj, Užok)
– 1 New Croatia City (Zagreb)
– 2 New Slovenia Cities (Kranj, DOLNJA POČEHOVA)
– 2 New Hungarian Cities (TOKAJ, HAJDÚBOSZORMÉNY)
– Real Slovakian Roads and Signs (with some road changes)
– For version 1.35!!!!
– Thanks For Downloading!!!!
HOW TO DOWNLOAD:
1. Download from this website
2. Open europe.rar
3. Copy europe.scs to folder: mod
4. Enjoy and Play!
(The map is called europe, because it's maked to europe.mbd)
FACEBOOK for NEW INFORMATIONS and PAYING!!!!
https://www.facebook.com/SlovakiaMapByKimiSlimi/
FULL VERSION of this map for 5€, and DEMO for free!!!! If you pay ONCE you will have this map for a lifetime. PROMODS ≠ SLOVAKIA!!
CONTACT ME ON FACEBOOK and I give you PayPal and you will be in community SVK MAP by KimiSlimi FULL on Facebook.
QUESTIONS:
[email protected]
[email protected]
Credits:
KimiSlimi
DOWNLOAD 298 MB